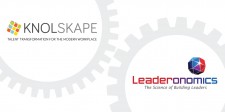 KNOLSKAPE & Leaderonomics to jointly offer simulation-based leadership development programs for companies in Malaysia
Bangalore, India, April 21, 2017 (Newswire.com) - KNOLSKAPE, a leading provider of talent transformation solutions for the modern workplace, and Leaderonomics, one of Asia's leading corporate leadership development companies, announced a strategic partnership for enhanced leadership development programs in Malaysia. The partnership offers Malaysian companies advanced leadership development solutions that contain a blend of technology and traditional learning.
As corporates face newer challenges on account of digitalization, globalization, changing workforce dynamics, and a world driven by hyper-competition, companies across the globe are increasingly realizing the need to complement their existing leadership development programs with technology-enabled learning accelerators. Realizing this need, KNOLSKAPE and Leaderonomics aim to provide organizations with blended solutions – leadership expertise powered by experiential technologies such as simulations and gamification. 
"Over the last few years, we're seeing a growing adoption of digital learning solutions and experiential technologies in order to accelerate talent transformation," said Rajiv Jayaraman, Founder & CEO of KNOLSKAPE. "To provide an unmatched experience to customers, we are thrilled to partner with Leaderonomics – a company that has tremendous expertise, an impressive track record and a great reputation in the leadership development space."
Within a very short period of forging the partnership, both companies have seen an extremely fast market adoption for the combined solution. According to Roshan Thiran, Founder & CEO at Leaderonomics, "We believe in being at the forefront of experiential solutions for leadership development, and the partnership with KNOLSKAPE is a step forward in driving this vision. We are extremely excited about being part of the forefront of the future with the integration of technology, development and learning."
About KNOLSKAPE
KNOLSKAPE is a Modern Workplace Learning company that uses experiential technologies to accelerate learning, transform employee experience and boost productivity across four key areas: Leadership Development, Sales Effectiveness, Digital Transformation and Frontline Development.
More than 200 clients in 17 countries have benefited from KNOLSKAPE's award-winning experiential solutions. Using business simulations, gamification, mobile, social, artificial intelligence, virtual reality and machine learning, KNOLSKAPE delivers transformative learning experience for the modern learner, rich analytics for the HR teams and improved performance for the organization.
KNOLSKAPE is a 110+ strong team with offices in Singapore, India and the UAE, serving a rapidly growing global client base across industries spanning banking and finance, consulting, IT, FMCG, retail, manufacturing, infrastructure, pharmaceuticals, engineering, auto, government and academia.
KNOLSKAPE is a global Top 20 gamification company, recipient of Brandon Hall awards, and has been recognized as a disruptor in the learning space by Bersin@Deloitte.
About Leaderonomics
Leaderonomics is a social enterprise with the aim of transforming developing nations through leadership development. We believe in the science of building leaders and we achieve this through our corporate, community and content channels.
As winners of the HR Vendor of the Year Awards Malaysia (2016) for Best Leadership Development Consultant (Gold), Best Management Training Provider (Gold), and Best Learning Management System (Silver), Leaderonomics continues to provide top organizations across Asia with services that span the full spectrum of organizational learning, talent assessment and acceleration, executive coaching and consulting, and culture transformation. Leaderonomics also provides leadership development content through its flagship site – www.leaderonomics.com.
The organization's community arm is involved with ongoing leadership development in schools, campuses, and youth in developing nations. For more information, please visit www.leaderonomics.org.
Foram Pandya | Public Relations Specialist | KNOLSKAPE Solutions
+91 70459 96253 | foram.pandya@knolskape.com
Sarah Lim | Brand & Marketing Leader | Leaderonomics
+60 166 574 446 | sarah.lim@leaderonomics.com
Source: KNOLSKAPE
Share: